First, a little check in for the Blogtember Challenge!
Just Read:
Harry Potter and the Cursed Child
by JK Rowling
It felt pretty surreal to revisit my old friends (ha!) after so long. At first I wasn't sure about how I felt about this, and I 100% wish that it wasn't written in play form, but I enjoyed it a lot. I think the events of the book were meaty enough that they needed more time than just a play. I need another 600 page book! :)
Currently Reading:
Truly Madly Guilty
by Liane Moriarty
I've loved the previous Liane Moriarty books that I've read but am still trying to get into this one, haha!
Want to Read:
October brings the release of several books I'm dying to get my hands on!
1.
The Magnolia Story
by Chip and Joanna Gaines
No explanation needed. :)
2.
Grace Not Perfection
by Emily Ley
If you've read my blog for any amount of time at all you know that I'm obsessed with my Simplified Planner, I preordered this book the second it was announced!
3.
Eats
by Shay Shull
I've been in a major cooking mood the last few weeks and I'm needing some new recipes to try!
And now, London!
After a sweet few days with family in Brighton, we were headed to London! We took a car to avoid the train station craziness with Beau. The goal for the day was to enjoy some sightseeing with my dad, brother, and Uncle Bobby.
Obviously you need to see these things, and I love beautiful Big Ben from afar.. but the Westminster Abbey/Buckingham Palace area is such a zoo with tourists that it wasn't the most pleasant with a stroller and bright sunshine! After running around for a bit we stopped for lunch at Aubaine, one of the restaurants I was most excited to visit.
The whole place was chock full of interior inspiration. I literally took photos of the hardwood floor stain, haha! I got a lobster roll and was giddy throughout the whole lunch because it was so beautiful!
After a full day of walking, we said goodbye to everyone who was headed back to Brighton, and we went back to our hotel to make plans for the next day. We like to stay in South Kensington, it's our absolute favorite neighborhood.
We popped into one of our favorite restaurants, Muriel's Kitchen for a quick dinner.
The next morning we woke up and took an uber to Notting Hill to have breakfast at the highly recommended Granger and Co. The line out the door backed that up, and because there were just two of us and we had the stroller, we got in quickly! Yay!
I kind of went into foodie mode here. :) Haha! I got a watermelon and lime frappe, and ricotta pancakes with banana and honeycomb butter. So delicious!!
The whole Notting Hill area was so charming. We loved exploring the quiet, colorful streets and it kind of felt like we lived there.
We did a quick walkthrough of Portobello Road and ate the most delicious Nutella Crepes I've ever had. :)
Look how red Beau's hair looks during his mid morning Notting Hill snack! :)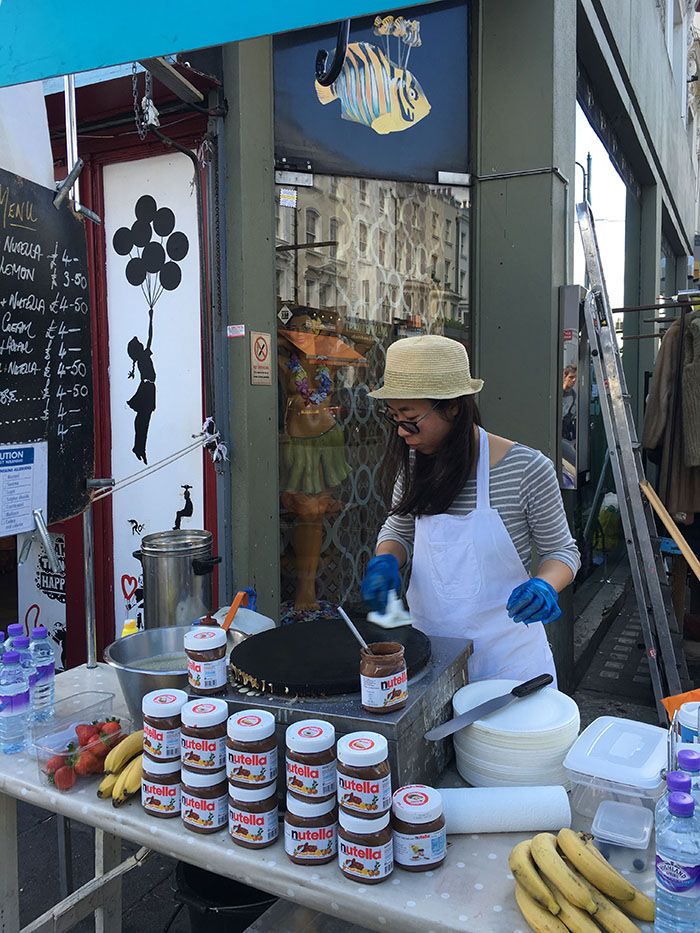 If you are in London and see this crepe girl... stop, stay awhile, and eat multiple crepes.
We then walked through Hyde Park and enjoyed the long way around back to our hotel, with a few quick stops! I'm sure it's no surprise that we stopped at Kensington Palace.
After relaxing in the park, we kept walking to Harrods. We LOVE Harrods. It never gets old to us. :)
We stopped in Laduree for some macarons. Our very favorite!
The Harrods food hall is beautiful and so intriguing! After a little rest in our hotel from our busy day, we got a cab to The Churchill Arms, a flowery fun pub with delicious thai!
The next morning we slept in, did some shopping in Covent Garden, and ate good snacks!
We were really tired from our busy few days and had our day trip to Paris the next day, so a slower pace was really perfect! That night we decided to order Chinese (nothing beats a good British Chinese!!) into the hotel and watch the Olympics. I do have to note that American coverage is about a thousand times better than British coverage. Oops!
I know I'll look back on this random selfie so fondly! A sweet night with my boys in our hotel room watching synchronized diving instead of women's gymnastics because that's what Team GB thought should be aired. I'm clearly not bitter.. right? Haha!
Save
Save
Save
Save
Save
Save
Save
Save
Save
Save
Save
Save
Save
Save
Save
Save
Save
Save
Save
Save
Save
Save
Save
Save
Save
Save
Save
Save
Save
Save