When I share from our travels, I always seem to start off full speed ahead, and then get distracted sharing other things that have been going on in our lives. Especially because we usually visit so many cities! I've not been shy about taking about how much Ben and I loved traveling with Beau, but even now as I look back at these photos I'm thinking about how fun it would be to do another one of these trips. I have no idea of our travel plans for next year (except I REALLY want to do Disney World) but thinking about more international travel with my babes makes my heart so happy!
Towards the end of our planning, I just kept thinking about how we were going to be so close to Paris. We were already planning on being in London for the week, so I suggested to Ben that we do a Paris day trip. I asked if he thought this would be too hard on Beau, etc. At this point we actually knew Beau, knew his demeanor, and so we decided to go for it! Paris is the city where I was born so it's extra special to me that Beau has already visited, even being so young. As I went through these photos I thought I should mention that I don't just command that Ben be an instagram husband, haha! He really enjoys photography and taking beautiful photos. From both of our pumpkin patch trips we have almost no photos of him, because he was taking photos of everyone there. Stunning photos, honestly. A few of the photos from today were taken by Ben and then edited by my talented friend Nicole. She really got me thinking about how if we would get our acts together and learn how to beautifully edit photos, I would feel like we have professional photography everywhere we go. Hmm.
We took the Eurostar there and back from London, and as you can see, Beau liked it just fine! We left pretty early, and got back pretty late. But it was a full, sweet day. Our goal was to see a few things that we had missed on our last trip to Paris, and to enjoy the overall feel of the city.
Our first stop was the Palais Royale, by the Lourve. I loved this palace because, especially at 9am, there were only a few other people there. Including a French male fashion blogger and his photographer, which was incredibly fun to watch. I could tell they were a real deal situation and it was intriguing!
The palace, and the environment with cool weather, was amazing! We fed Beau while we were there and just soaked in the beauty.
The architecture in France just gets me every time!
I held up Beau to take a photo and clearly he was NOT a happy boy! I wouldn't remember he had gotten upset if it wasn't for this photo, he was so good during this whole day trip. I honestly love this photo. Sad baby is so cute, and he looks so teeny tiny. Babies don't keep.
These lanterns were one of my favorite details of the whole day. Only in Paris are there beautiful fixtures everywhere you look!
After enjoying the palace we hit the streets, and walked down the Seine to Sainte Chapelle. We stopped on our way to walk through the beautiful Lourve grounds.
This random snap made us laugh so much. #diva
Paris is one of those cities where the environment in itself is just so enjoyable.
I had no idea Ben took this photo until I started gathering photos for this post, but I thought it was kind of cool. You can tell I'm just in awe of the beautiful city!
Sainte Chapelle has beautiful stained glass depicting the bible from Genesis to Revelation. It was stunning!
One thing I will note is that the staircase to get up into the chapel was teeny tiny. We took turns staying with the stroller and going up to look at the glass, so that was kind of a bummer. We didn't really realize how tiny the aisle was so we thought the worker was telling us we couldn't take Beau up there at all. I wish we would have known and understood and put the stroller in the secure stroller area, and taken him up with us to enjoy as a family. You live and you learn. :)
A yummy lunch at Cafe de Flore was next on the agenda. Best service I've ever had in France. :)
Even just the table had so many beautiful details!
Beau was in a great mood. :) We then took a long walk through the city to the Eiffel Tower. Madame Eiffel never gets old!
When we first got there Beau just wanted to snuggle his mama, which resulted in one of my favorite photos. Look at his sweet little popped collar. I'll also note that I didn't put shoes on Beau this day because I was afraid we'd lose them! haha!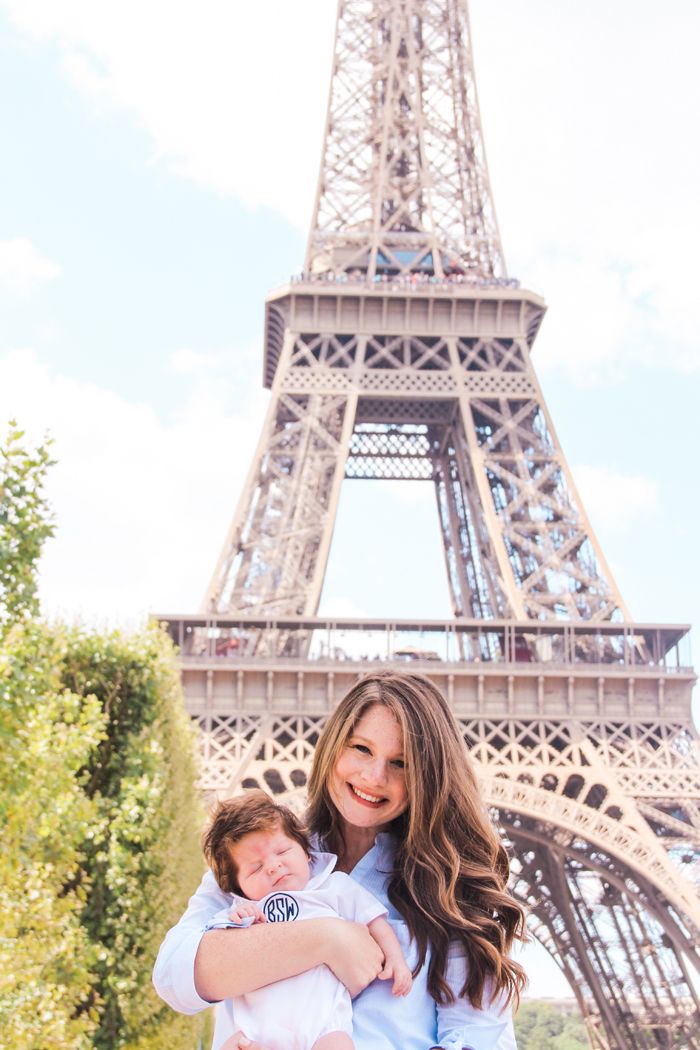 edited by 314 Productions
Where are all my photos of Ben and Beau at the Eiffel Tower? Womp womp. It's sweet though, because Ben knew how important this day was to me and so he made sure to get some beautiful photos of me and my baby.
Around the Eiffel Tower was tourist central (no thank you!) so we set off for a snack (nutella crepes, of course!) and decided to head back towards the Palais Royale. We had enjoyed it so much and the weather had gotten a ton warmer. We wanted a quiet, lovely place to enjoy and we knew there was plenty of shade there for Beau.
The next photos are some of our favorites from the whole trip. Beau was in a phenomenal mood and was posing like the little sweetheart he is.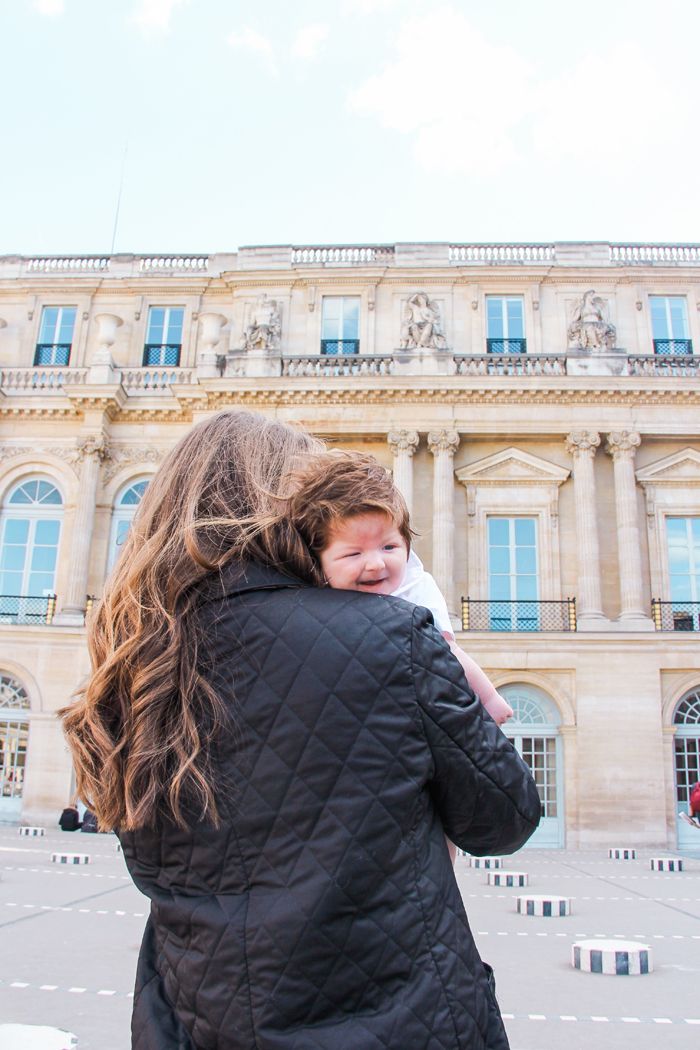 All these images edited by 314 Productions
We then decided to stroll through the city, grab a quick dinner, and head to the train station. We were a bit early but the thought of missing our train was very stressful to us, haha! The train home took a bit longer because the electricity in the chunnel went out and we had to wait until it was fixed. It was the best feeling ever when we arrived back at our tiny London hotel room. The day was so wonderful and was a perfect little piece of France in our trip!