No. 1
It's been a big week for Beau! He's now officially an avocado eater! :) He LOVES it. Like, legitimately he's eating so much every time and he loves it. Thanks to the suggestion of a friend, we're also introducing baby sign language and so every time I am about to give Beau more I say "more!!" and do the sign, then feed him more. This may sound crazy but I feel like he's already responding to it. He'd get worked up trying to reach for the food and I would say and sign more and he'd settle down and open his mouth. YAY! Huge victory!
The first few times trying the avocado we just put Beau in his
little mamas and pappas chair
, but a few nights ago we went ahead and pulled out
the highchair
and he LOVED it! And we love it!! If y'all don't already know this about me.. I'm passionate about getting nice things for a lot cheaper than they would usually be. 90% of the time if you see me in something expensive it's a substantial amount cheaper than the ticket price. I find coupons, price adjust, etc etc. I compared where was the cheapest place to get this high chair, and it ended up being Target. At the time they had a promotion where you got a $25 gift card for every $100 you spent in the baby department, I asked them to price match my buy buy baby 20% off coupon (they couldn't, but they gave me a 15% off courtesy which I gladly accepted!) and then linked my red card (another 5%), got free shipping, and then used generous gift cards for the total. This is how I shop for everything haha!
No. 2
Next week we have Strader family photos, Beau's six month photos + our family photos, then Halloween, then the next week we have portraits for Beau at Janie and Jack, and then Beau's baby dedication. So coordinating outfits for our little family has been my job lately! I'm so excited about what I've chosen so far and can't wait to share with y'all! The dark photo below is one of the outfits I've chosen! :)
No. 3
Beau also went into the nursery at church for the first time last Sunday! He did great, yay! What made it easier is that our friends Dave (in the photo!) and Karen were in his room. They have five kids and are amazing parents so I joked that he was in better hands with them than with us! I'm so proud of my precious little boy!
No. 4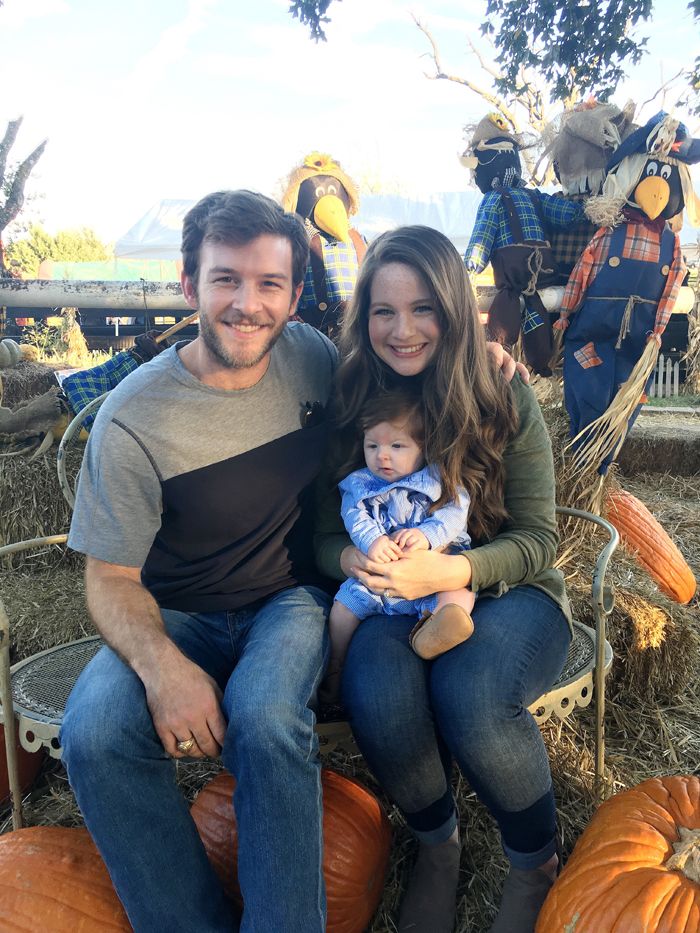 We went back to the pumpkin patch on Wednesday night and got this sweet family photo! It seems surreal, still, that we have a little family!
No. 5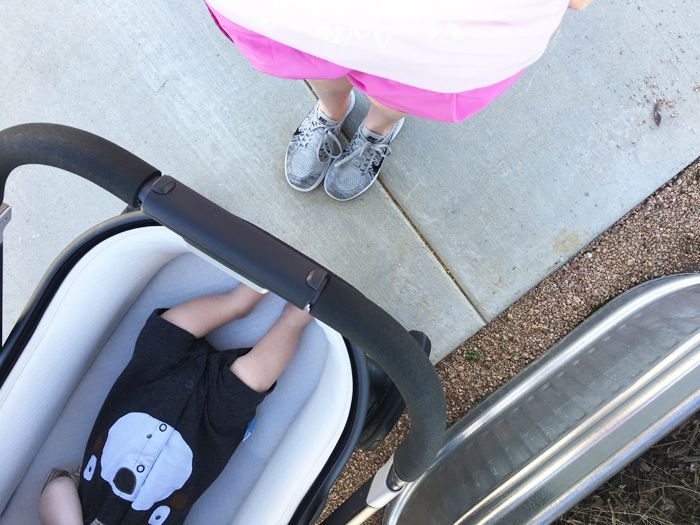 So far, I feel like so much of motherhood is learning to balance. I want to balance being crazy busy and being home so much that I feel like we need to get out, etc. Yesterday was our only day home all day and we had to break out, haha! Beau loves being on the go because we love being on the go! We went for a long walk/run around our new neighborhood and it was so great. Except I'm ready for cooler weather please. :)
Happy Weekend!
All of my Friday posts can be found
here
.