There are a few sweet traditions that Ben and I have loved since we got married. Up until now, that very first Christmas we spent together as husband and wife (just four days before our one year anniversary!) has been my favorite. There's just something really sweet about a new family starting, and creating special things that will unite them in the years ahead. I love hearing things that people do to make their holiday celebrations special and unique, so I'd love for you to share your favorite tradition in a comment if you're not linking up with
Sarah
and I!
Cinnamon Rolls on Christmas Morning:
I'm not sure why, but eating Pioneer Woman cinnamon rolls on Christmas morning has become our thing! Every year I make a zillion, and send batches off to our family and friends. Every year I've made more and more rolls, and I want to set another record this year!
The sight of these photos already makes me excited for baking day this year!!
Christmas Jammies:
There's nothing super unique about Christmas jams, but it doesn't make them any less special. This time last year, we were just a few weeks from
finding out that we would be welcoming a BOY in May
. I remember
making a list
of all the things that I hoped to do next year. I also purchased a few pairs of gender neutral jammies. Mama's intuition was correct, and all of my Beau Bear's size 9 month Christmas jammies have been keeping him extra cozy at night. I will say, that for some reason I also thought he would be size 9 months at Easter, so we have a 9 month Easter pair also. Anyone need those? :) The photo below isn't in our matching family pajamas, but our new tradition is wearing the same jammies on Thanksgiving night, so that we can wake up and decorate together on the morning of Black Friday, all festive!
Handprint Crafts: We can't get enough, and I'll never stop making handprint crafts of my boy. Sorry in advance to all relatives who will be getting little Beau ornaments each year. Not every year will be a fancy ceramic item... but paint on paper works pretty well too. Notice in the photo below that Beau is very chill and used to his hand and footprint lifestyle. The sweet girls at the paint place told me that Beau has been the best baby at handprints they've ever had! Proud mama!!
Looking at the Gaylord Texan Decorations: I put this on the list last year, and it's only going to get more and more fun as Beau gets bigger and wants to look at the trains, make a gingerbread house, etc. We went this weekend with friends, and I can't wait to see this group grow over the years and participate in festive things like this!
Photo with Santa: For some reason this is one of those things that really makes me feel like a mama. Taking our sweet boy to see Santa. I plan on putting his photos from each year in ornaments or frames around the house. This first photo is beyond precious to us!
Our sad little pumpkin! It's super out of character for Beau to cry like that, he really doesn't have stranger danger at all. When we started the line he was happy, but by the time it was his turn, we had a hungry baby on our hands. We got one happy photo but the crying one ended up being the one that we know we will treasure in the years to come.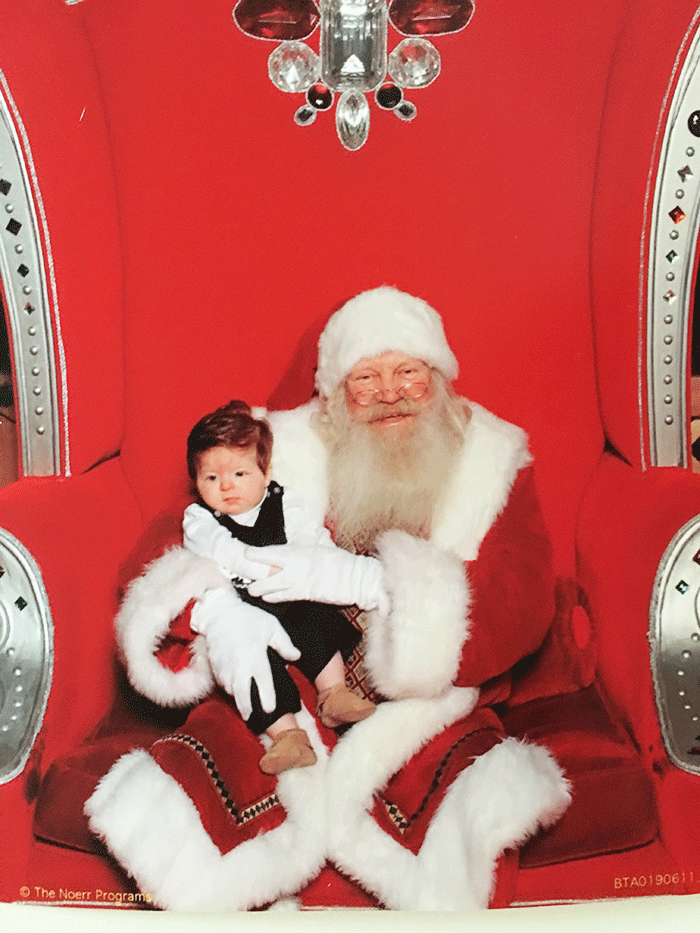 These few fun traditions are the ones we have right now, and I can't wait for the ones we'll develop in the years ahead. I dream of Beau hosting cookie decorating parties for his cousins, and picking other sweet things that he would enjoy doing. I can't wait to hear what y'all do with your sweet families!
I also want to take a quick second to say a little hello to those who don't feel like they have Christmas traditions, because Christmas isn't a happy thing when dealing with loneliness, broken or dramatic families, etc. I have been there and looked at families who celebrate sweetly with great envy. God provided for me and I'm praying now as I write this post that He will for those of y'all relating to these words! XO
We've been so encouraged by those of you linking up so far! If you join in, please make sure to link back to both Sarah and I. I'm making sure to check in with all of y'all, but some of my comments aren't working for a few wordpress sites for some reason.. boo!
Save
Save
Save
Save
Save
Save
Save
Save
Save
Save
Save
Save