Let's be real for a second? I've struggled with making our new house feel like it's really our space. I've already started tackling a few projects to work on that, but it's made decorating for Christmas even harder, knowing that I don't feel like everything else is quite settled yet. Does that make sense?
I will say that in our current house I'm loving the two areas of Christmas decor that are most meaningful to me, the tree and the mantle. Our tree is mainly personal ornaments, and I wouldn't have it any other way! Each year we add a few sweet ones to our collection, and I can only imagine that our tree will continue getting better with age. I can't wait for the little construction paper ornaments that Beau will bring home from school, with his little face on an angel or his little hands making a reindeer. I can't wait for our first Christmas morning as a family of three beneath our tree.. reading Luke 2 and eating our cinnamon rolls! It will be so much fun when Beau can snack on one with us next year! The mantle is extra special this year as we've added a stocking. I took our stockings to be monogrammed in the Spring, as soon as we had decided on Beau's name. I knew that I didn't want to put it off and then somehow not have the stockings done for Christmas. :) It's so incredibly surreal to me that our stockings now say "Mommy" and "Daddy", and that our sweet boy has one too!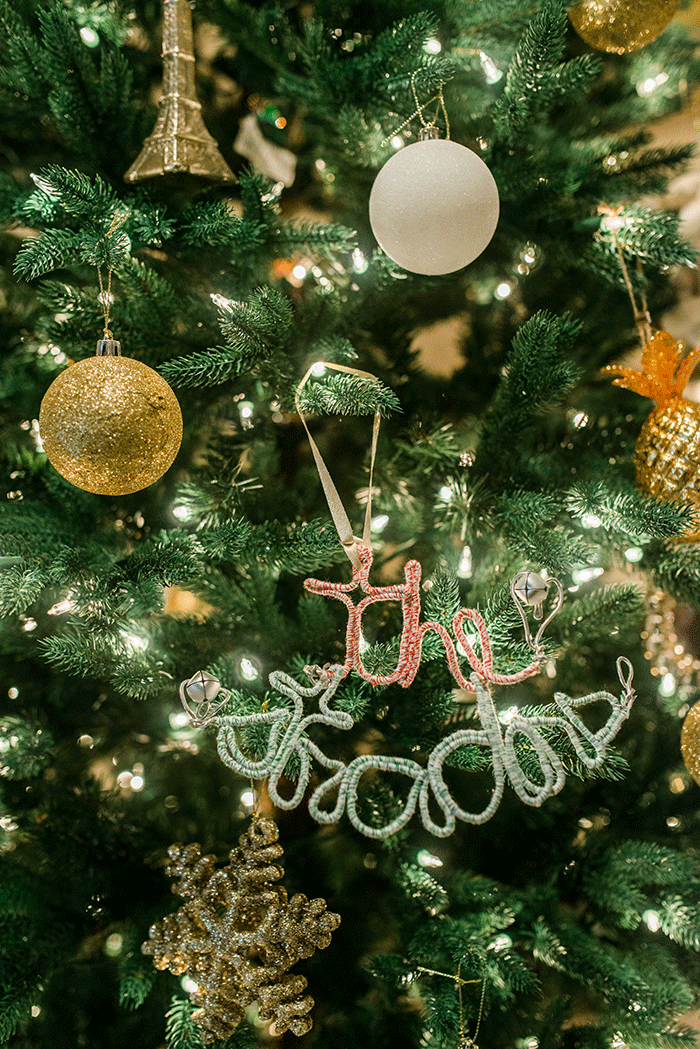 Image by Dyan Kethely
The above ornament is one of my absolute favorites of ours. I got it the Christmas that we were engaged from participating in the Southern Weddings Ornament Exchange. A fun story, right?
I want to look back on some of my favorite areas at our old house during Christmastime, and maybe get a little inspired to recreate them in our new home!
This little hot chocolate station was one of my favorite details in the old house.
One of my favorite details was the clear lamps being filled with ornaments.
This instagram shot is so long ago! I loved that chalkboard so much for such a long time!
And the next year the same pillow made it outside!
I always absolutely loved our dining space during Christmas. This might be my favorite shot ever of our old home. That room housed so many sweet meals.
I can't wait to look at y'alls holiday decorations! I've LOVED connecting this week. I've been so surprised at how much conversation can be made over these sweet things. Also, I got a lot of questions about the Pioneer Woman cinnamon rolls.. I made them in advance and would freeze most times! Hope this helps!
Save
Save
Save
Save
Save
Save
Save
Save