Thank y'all so much for linking up with us for the first day of The Most Wonderful Time of the Year linkup! I'm so excited to read everyone's posts over the next two weeks.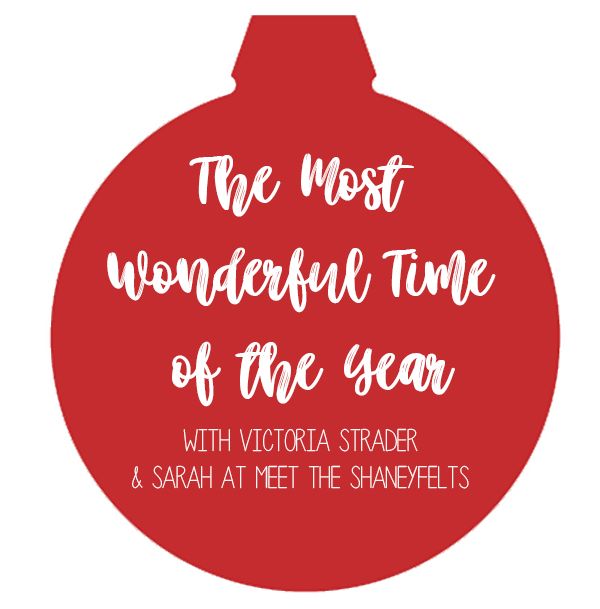 The best part about entertaining around the holidays is how easy it is to make things feel magical. Low lighting with twinkle lights, holiday flavors, and Christmas music.. the mood is instantly set!
I've hosted some laid back Christmas gatherings, but because we host Thanksgiving we usually end up other places closer to Christmas and New Years... so I'm going to share a few random tidbits. An event we hosted for our home group a few weeks ago, my favorite crowd pleasing holiday recipe, and a few random thoughts. Hodge podge post for you today. :)
On the Sunday after Thanksgiving families from our home group came over for hot chocolate, fudge, cookies, and some sweet time together. The purpose of gathering was to collect toys for a local ministry. We originally were going to make our activity wrapping the gifts, but then they wanted them unwrapped, so we just collected the items for one of our friends to drop off. We had a ton of fun holiday cards printed off for the kids to color and decorate for people in hospitals to receive for Christmas. We found all the information about it on the blog, Momfessionals. It kept the kids really engaged and it was awesome to have them talking about what we were doing. One of my friends' daughters came in with her gifts saying "these are for someone we don't know!!" It's going to be awesome to watch these kids grow in their deepening understanding of these concepts. We had a ton of fun and it was cool to have it for a greater meaning. It felt like a really fun holiday kick off.
I'm dying to host a recipe exchange. I've read tons about them online and next year I just need to get my life together and do it! I have so many good cooks in my life that this is sure to be a hit!
Speaking of recipes.. my favorite holiday recipe. I make fudge every year and it's always a major crowd pleaser. It's also INCREDIBLY easy. Some things just sound like they would be hard to make but this one I can do without thinking.
2 sticks of butter
6 cups of sugar
1 can of evaporated milk
1 can of marshmallow cream
18 oz (1 1/2 packages) of chocolate chips
2 t. good vanilla
Grease a 10x15 jelly roll pan.
Combine butter, sugar and evaporated milk into a dutch oven or other heavy duty (deep) pot.
Bring to a rolling boil and boil for 6 minutes.
Remove from heat and add marshmallow cream and chocolate chips.
Stir until it begins to thicken and then add the vanilla.
Stir until it no longer pours from the spoon and spead into greased pan.
I think that any type of Christmas gathering would be a great opportunity for a fun party favor. Whether it's a seasonal soap, tiny present, cookies in a clear bag tied with ribbon, or even just candy canes.. I think this would be a sweet and festive touch!
This is probably and hopefully my least meaty post of the linkup.. I can't wait to read y'alls posts on Holiday entertaining experiences and add some tools to my belt! I'm also having issues with the pictures on my computer.. womp womp! Hoping to get this fixed ASAP!!
Again, thank you for linking up with
Sarah
and I, and a HUGE thank you to our cohost for today,
Catherine
!